INSTRUCTIONS ON ESCAPE ROOM THE INCREDIBLE CASE OF THE TREASURE OF SANT JOAN.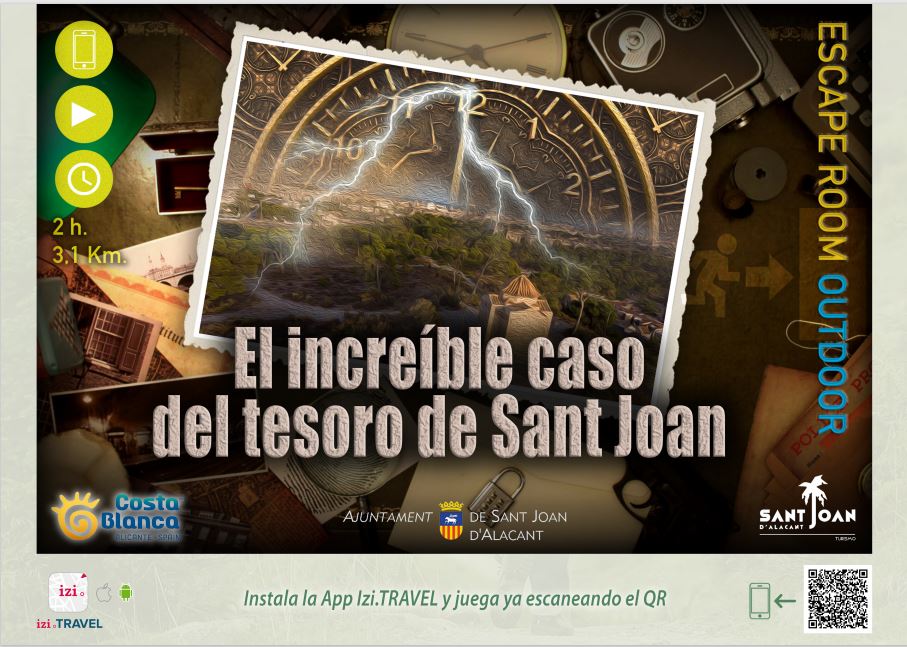 STARTING PLACE: JARDINES DE LA CONCEPCION, NEXT TO THE CAR PARKING.
DURATION: 1H30min / 2H
CAPACITY: THERE IS NO
EVENT SUMMARY: This event organized by the Department of Tourism is based on a walking tour of the town. Divided into 10 stops, you will learn about the history of our municipality, but in a game environment, that is, overcoming tests, levels and helping the protagonists of this story to solve the case of the Sant Joan treasure.
It is an easy and simple 3.1Km circular route, which can be done with children and people with reduced mobility.
GAME INSTRUCTIONS: It will be necessary to download the free izi.travel app and search for "the incredible case of the Sant Joan treasure." Once at the meeting place, you must follow the instructions that the game will automatically indicate, which will make you advance from stop to stop until you reach the end point of the route and solve the case.
RECOMMENDATIONS: It is recommended to bring water, comfortable shoes and clothing, as well as a phone or tablet with an internet connection and enough battery to play the game, since it will be the board at all times.